Nano Crystallized Glass can be used for Interior & Exterior: wall cladding, counter tops, vanity tops, column cladding, table tops, stairs, floor tiles, bars tops, moldings, furniture decorations etc..
Features of Nano Crystallized Glass are as follows.
It's Uniform structure, no slight cracking lines on the surface. Very durable, not easily damaged.
Superior resistance to acid, alkali and weather sharp change etc. makes is a great choice for indoors and outdoor projects.
It cleans easily, and is resistant to pollutants with Zero Water/Stain absorption.
It can be bended and deformed with high temperature heating to different shaped tiles, such as columns, arc panels, and curved panels etc..
It is created with No Radioactivity, making it harmless to human health.
The available color: White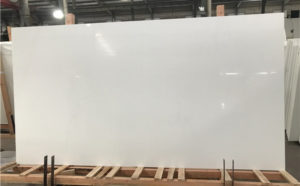 The available slab size in stock: 
2cm : 120″ L x  60″ W.  
3cm:  120″ L x 56″ W
The size can be varied upon request. It must be within 110″ to 120″ in Length, 56″ to 60″ in Width.
The available thickness: 2cm & 3cm
Care and Maintenance
Due to the high compact structure the glass stone cannot be stained by pollutants such as tea or ink. It is recommend to clean the surface regularly with soft cloth. Before cleaning and wiping, make sure there is no debris on the surface.
Glass cleaner can be sprayed to wipe the surface.
Do not use abrasive sponges, scouring powders or caustic chemicals.
When slight scratches appear on the surface of Nano Crystallized Glass, smear some toothpaste on the scratches, wipe with soft dry cloth repeatedly.
If the pollutant still remains, try to use the following cleaning agents.
Tea, Coffee, Ice Cream or Grease :  (Weak Alkali Solution – Sodium Hydroxide Solution, Potassium Hydrogen Carbonate Solution,
Sediment, Ink, Iron Rust, Plaster :  Weak Acid Solution, Such as Hydrogen Chloride Solution, Nitric Acid Solution.
Paint, Drawing: (Oxalic Acid is preferable when stained by ink) Turpentine, and Acetone.
Sauce, Wax, Carbon Powder: Solution of Acid or Alkali
Mud: Linseed Oil